Triple Teaser Tongs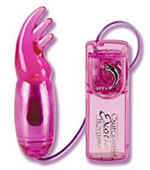 I had high expectations for this sex toy because it looks neat and when I look at it, I can visualize exactly how will be "exploring" myself with it! If there were any toy in Madison Q's sextoy box, I'm sure this would be it!
In real life, the jelly is so thick that it absorbs most of the vibrations. I was so disappointed because of this! I actually expected it to give me a super strong tingle but the tings part is very subtle. The bullet itself vibrates quite strongly but it's amazing how the vibrations get weaker as they radiate down the little tongs.
I pushed the tongs between my vagina lips and it was more like a massage. It left me wanting more but for a woman who does not know the range of super powerful sex toys in the world, she may like this. For the experienced sex toy user like myself, it's kind if disappointing.
I though of a great idea. Give this bullet vibrator to your partner and let him use it on you as a part of foreplay. The visual appeal is quite high as he can inspect and poke around your private parts. It will be fu for him t6o do and is good for some foreplay.
The material is soft but not squishy by any means. I actually could have preferred if this sex toy has coated in plastic instead of jelly because plastic is very good at conducting vibrations. It would have been much stronger. the jelly is not soft so I don;t know why they made it out of jelly.
Good concept, poor execution. I'll move along to plastic bullet vibrators in the future, they seem to deliver more orgasm power.