Tied Tight Masturbator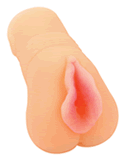 Here's one for the guys. When I saw this product, I was immediately drawn to the thickness of it. It looked so thick and plump compared to many of the floppy sleeves I see. I decided to give this to my man and get him to provide the review. It is as expected, it's fabulous sex toy for men and every guy would love to own this.
The sleeve is larger sized at 5 1/2 inches long, which is a jump from the usually size. It stretches as usual but not as much as the jelly sleeves. this is made of Cyberskin and is more common in sex toys for women but in this case, it makes a great male sex toy. It feels very real, but a little softer them actual skin. the core is more sturdy so there is no flop here, just tight well renowned pleasure to your man's manhood.
He needed to use lots of lubrication because it seems that the material sucks it up and absorbs it and he needed to reapply after getting going. make sure you ave yourself the trouble and lube this bad boy up good before pleasuring yourself.
The thick entry is touted and the most puffy pussy lips ever and this is true to claim, they are extra thick, there are little buttock shaped ends that are even thicker and this allows you to hold on better and he can glide away and even hot the pelvis to add some more realistic sensations, like when you do it doggies style and come into contact with the thighs.
A fantastic sex toy for men, he loved I loved it and it feels so neat to squish and hold, highly rated and great value, it's one of the best sex toys out there.