Tickling Dolphin Clitoral Stimulator
Submitted by Anonymous on Thu, 09/20/2007 - 18:03.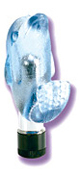 I find the Tickling Dolphin Clitoral Stimulator a nice little treat when I come home every day. Such a pleasing surprise to come home and relieve the stress of everyday life with a sweet little treat like this clit toy! It is made out of hygienically superior silicone, which will resist bacteria and is easier to clean than some other materials. Silicone sex toys are good because when it is lubricated, it slips and slides way easier and feels a lot softer. Just remember to never mix silicone material sex toys and silicone based personal lubricants as the silicone sex toys will melt. This leaves you with a puddle of ruined sex toys!
This dolphin is a nice translucent blue with a kind of frosted tint to it. A small vibrating bullet sticks in the bottom, and requires 4 watch sized batteries, and 8 are included. I love it when batteries come included with your sex toys, because this way you can dive right in and indulge as soon as you get it! Anyway, when the batteries are inserted and the dolphin is doing its job, the vibrations are whisper quiet and nice and strong. You can use this little buddy on your clitoris, on your vagina lips, or even to rouse the nerves in your bum! Small, hand held clitoral stimulating sex toys like this one I find to be perfect during sex, as you can tease your clitoris while you get your penetration!
A great feature of this little wonder is that it is waterproof! So making tub time a little more fun and a lot more enjoyable. Make sure you tighten the twist on cap of the bullet vibrator tightly before submerging it in water, like any waterproof sex toys. You can even just keep it in the shower if you want.
The Tickling Dolphin measures 3 ¼ inches and just an inch wide, so it is very small and discreet. The silicone tail is curved up for a different approach. You can use the tail or the dolphins nose to tickle your clit, or even the roundness of its head. So there are a couple different options for different sensations. The tail has bumps on it for added stimulation. Try putting the tail just inside your vagina and push the rest of the toy up against your lips and clit for a really unique and invigorating experience! Smaller sex toys are usually unique and different in shape and size, and stash away perfectly at the end of the day.
The wireless dolphin is a great sex toy, and I would have to give it a 5 star rating. Small, discreet, powerful, quiet and 3 or 4 different places you can use to tickle yourself earned its rating. This clit toy is the perfect design to cure your sexual cravings, whether you use it with your partner, or solo, it will please you and keep you smiling.
Out of all clitoral stimulating sex toys, I recommend this one for beginners. It is not intimidating, and it is discreet. You can also get your partner to tickle you with it, which makes it more relaxing as you just lay back and enjoy!