Rotating Venus Penis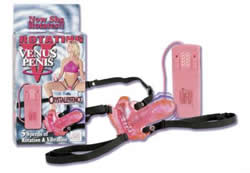 Being such a sex toy lover, I never thought I would see the day when I would not like a sex toy. I know that lots of them are crappy made and pretty cheesy, but you have to know that and don't let it get to you, as long as it feel good, who cares?
So the Rotating Venus Penis is a new concept of the strap on vibrator that you wear and it has a little inserting penis that rotates. It's noisy as hell and as as bulky as a a sex toy can possibly be. Is this thing for real? If you are 300 pounds maybe you'll like but but for a regular woman like me, this rotating strap on sex toy is juts plain ridiculous.
The penis rotates but it is the most annoying sensation. It's like a big bulky thumb that rotates and it does noting to turn me on. It is supposed to tease and the concept is great, but only a rotating vibrator should tease, this juts annoys. It's really hard to explain and I can't completely bash it because I know that someone somewhere like this kind of stimulation.
The Rotating Venus penis is not very ergonomic and it sort of scrapes the side of the wall. If the while butterfly were curved and it fit better it would probably have hit a better spot and created some sexual arousal. This sex toy is a flop and you can't even wear ky during sex because it inserts.
The saving's grace is that it vibrates as well as rotates and the vibrations are very strong. It uses 3 AA batteries so that's allot of power for this sex toy. When you turn off the rotation, it gives all the battery juice for the vibrations so this vibrator is very powerful. That I enjoyed quite well because I am a sucker for strong sex toys.
I think that if they very create a venus penis sex toy that rotates over the clit, I'll jump at that to be my next sex toy review but until then, I'll put this one at the back of the shelf. At least I know what it's like now!