Rockin' Man Realistic Vibrator
Submitted by Anonymous on Thu, 09/20/2007 - 17:54.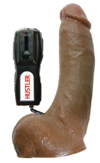 This Rockin' Man Realistic Vibrator is a huge black dick! Anyone who wants to experience what it's like to have a huge penis inside you, well this is the perfect chance to try it without having the actual man there! This way you can have your hot, large, erotic man fantasies and keep it all private and to yourself! Made from ultra soft, super plump Jel-Lee material, this vibrator is all you could want and more from larger sex toys. The big man is very realistic looking, with its perfectly bulging, tapered penis head and sexy veins running up and down the shaft. Also, the weight is close to reality. This vibrator is a hefty, large piece of man meat that will fill you up perfectly!
The scrotum and testicles of this vibrator are also one of the most realistic looking pair available. They have every grove, every fold and every vein you could ever expect from realistic looking sex toys. When thrusting this vibrator in and out, you will experience something that is so unique, and so large! Just like the real thing, this extra intense vibrator will fill you up and keep you satisfied, any time you need it.
The entire vibrator measures 8.25 inches long, but only about 6.5 inches are insertable. With a width of 2 full inches, you will cry out with pleasure! The flat base is perfect for standing him up and a chair or on the floor and taking him in from above. The base measures 3 inches by 3.75 inches for a large, flat, and perfectly standing penis!
Now about the vibrations, well out of all larger sex toys, this one has the vibrations concentrated in the perfect spots. When this macho man is inside you, you will feel the vibrations deep down emitting from the head, and when you have the balls pressing against your vagina, or anus, they vibrate perfectly and you can feel it ever so well. A tingling sensation that will make you shudder with pleasure! The firm shaft is slightly curved for a closer massage inside.
The Jel-Lee material is slightly tacky feeling, but makes for the perfect slip and sliding sex toy when lubricated. It does not feel exactly like real life skin, but it does feel soft and slick. The sleek design kind of makes this vibrator a little classier than most.
The hand held battery pack is even soft! The plastic has some kind of silky smooth texture, which feels nice in your hand. It requires 2 AA batteries, which are not included in the package. The wire from the vibe to the battery pack measures 2 feet and 4 inches long, so it won't get in the way, but it is never too far away to grab and change the multi-speed vibrations. On slow speed, the vibrator really just teases you, and on high speed, can make you orgasm very comfortably.
I rated this vibrator 5 out of 5 stars, because out of all my sex toys, this vibrator is one of the biggest, most exciting! The vibrations are not the strongest, but they definitely travel through the plump, solid material better than I expected, and the design is so eye appealing. I love the large size and the comfortable tapered head. Perfect even if you don't want to insert the whole toy. I think this could be a vibrator that would make any man jealous!