Ribbed G Spot Vibrator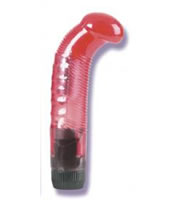 The vibrator is big and sturdy! Sure is not for the faint of heart! Yet another adult novelty toy that is larger in life then you would expect, but that seems to be the way that sex toys are! It's not soft at all, the jelly is very firm but that is needed to actually get the g-spot and do it right.
I've had jelly g-spot vibrators and they are too flexible and don't;t actually provide the right kind of orgasm. the plastic g-spot vibrators are good too, they are really string but they tend to be really small. The ribbed G-Spot vibrator is your next step up when smaller sex toys have failed and when you need a little more girth.
The surface is rubbed but very finely, it's like grooves have been cut into the ,material and I did not like that at all. The texture was really irritating, when I use this kind of sex toy, I don't thrust it in and out so it was okay, but if you like to thrust and don;t like too much texture, stay away from this adult toy.
The head is smooth and juts forward to give you great g-spot orgasms because it's really big and blunt. If you have a large g-spot then you need a large rounded head that rubs on the entire inner wall to give the best orgasms.
The vibrations are in the middle of the shaft and it feel nice inside put I would have preferred to have the vibrations right at the tip to give better stimulation on the g-spot because this is what this vibrator is supposed to do.
It smells like cherries, I don't know how they did that but it's really sweet and gets the taste buds flowing, you almost with it were a lollipop, not a sex toy!
A so-so vibrator, I liked a few things and did not like others but overall, the good price is worth it and I liked it if you want a big vibrator that is good for g-spot stimulation, this one is a good choice but if you want pinpoint vibrations then choose a plastic vibrator instead.