Raging Butt Plug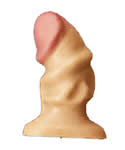 Awww, how cute, this butt plug is an iddy-bitty penis! think it's supposed to be targeted towards homosexual men, but I think it looks like it feels quite nice so I gave it a try and here is my butt plug review:
I was impressed with everything, from the size, shape and the texture. It hits the spot better then any straight butt plug that's for sure. It fills you nicely and comfortably, despite the fact it's quite solid, you'll appreciate the benefits it has.
It's short and blunt which is what I like because I am a small girl. Biology says that the most sensitive nerve endings for men and women lies right in the first inch or two of the anus so by putting pressure there, you really get them maximum benefit for your orgasm potential.
The curve us slight so it will hit the prostate for men and for women, it will make your vagina feel smaller so sex will bet better for you and your partner. For more fun, try using this with a vibrator because the vibrations will radiate there and make the butt plug tingle which is really delightful.
The texture is really unique, it's like a swirl shape so you can screw it in easier. You will also feel the ridges grab inside your bum and hold it in so this butt plug is less likely to gall out then a straight and slim butt plug.
For the disadvantage of this anal plug is that it's very blunt and easing it in is not as easy as it sounds. I recommend plenty of anal lube because you will need it. Just take it slow, even for an advanced anal toys lover you might need some patience and courage to get this blunt little butt plug inside you.
Don't be afraid by the fact that it looks like a penis, just use it because it feels very very good. A wonderful anal sex toy.