Purple Crystal Cote Dildo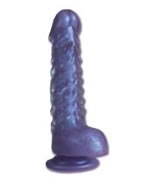 This sex toy is really different because it has a very prominent series of ridges and curves that stick out form the shaft. From first glance, or as seen on computer monitor, the dildo does not really show these ridges, you have to see it in person close up.
The ridges are the most noticeable on any sex toy I've ever seen or felt. They are obvious but smooth and rounded so they are not annoying or irritating like some other studded sex toys I've previously encountered.
I loved the smooth head. the feel from the probing head going into the ridges shaft is a great contrast. If you planning on getting a sex toy t get your man to use on you, this one will be a good choice because of the "handiwork" that he can do as he probes and plays with the tip. It will feel quite good.
The size is right, not too much for sure but it is enough to satisfy. I would highly suggest using lots of lubricant because the material is very grabby on the skin and will create quite a bit of friction if you are not careful.
The look is obvious. It's much lighter then you see in the picture but this is one of the prettiest dildos I've ever seen. If you are seeking an adult gift, this pretty adult toy is a gift ready to impress!
The bottom has a suction cup base that I really enjoyed because it's extra, extra strong and will stick to virtually anywhere. If you are planning on suing his alone, take advantage of the suction cup and squat for a really erotic feel.
A fun dildo sex toy that I really recommend for any woman and couples can have a great time with this one too.