Naughty Nights Kit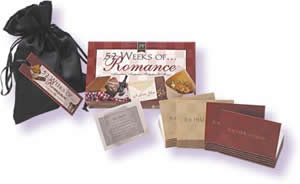 There are two different types of Naughty Nights Kits. One is for romance and the other is for naughtier activities like kinky sex positions. They can go together but they are not necessarily designed to be given together as a gift. personally, I would think it's one or the other.
The 52 weeks of romance has one tag for each week of the year. These ideas give you a sexy thing to do that helps to enhance the romance in your life. This adult gift is great for seasoned lovers or older couples for an anniversary.
The 52 weeks of naughty nights is about sex and adventurous intimacy. This gift set is perfect for people who want to expand their sex lives and make it more exciting. I would not give this as a gift to someone else but it's good for your lover.
I reviewed these items because they are good ideas for an adult gift. I know that many people do not want to give sex toys as a gift but they want something sexy, so I suggest these two adult ideas as a different idea for a sexy present for a special anniversary, birthday or an even better Valentine's Day idea.