Moist Strawberry Lubricant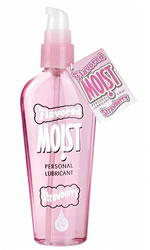 I love flavored lubricants. They cover the smell of sex which I think is gross, bodily fluids and latex? Thats smalls gross, i don't know how anyone can overlook flavored sex lube, it's juts my pet peeve!
Anyway, I tried a bottle of Moist Strawberry lubricant. The brand name is moist, that's not an adjective! It does live up to it's name, it's moist and slippery, not thick and tacky. i really liked that.
When you add a little bit of water to the palm of your hand and then add a squirt of lubricant, it activates it and makes it super slippery and extra long lasting. You should never use any lube without doing this because you get much more "bang" for your buck - no pun intended!
I really like the smell, it's very sweet and subtle. It does not taste that great but it's edible so it won't harm you. It does taste better then nothing though, but the sweet is kinda bitter.
Condom and sex toy compatible lubricant is important and luckily this sex lube is safe to use with latex and even silicone toys.
Recommended and fun, nicely scented and long lasting, I like this lube and will recommend it to everyone.