Micro Massager Bullet Vibrator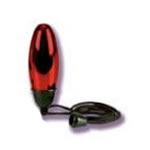 The color really shines on the Mini Micro Massager. I enjoy the unique shape, it's like a torpedo over a regular egg shape, so the end tapered a bit more. This allows you to get better precision then with a blunt rounded vibrating egg.
I though that I would give great reviews on this sex toy review but I was actually very disappointed. The vibrations are barely there.
To be called a micro massager, please, be powerful! There was so much potential in this sex toy that I was excited to give it a try in my bedroom with the door locked. It's quiet which is nice but the weak vibrations come with the territory and this mini sex toy really left me wanting more.
The rounded tip is better at stimulating then the blunt shaped so if you like certain pressure in a certain spot, then try this guy. If you like pressing pleasure like as dildo over a vibrator you might be happy. The smooth surface is good and it can slide wherever you wan ti to.
There is a really long nylon rope to use as a wrist cord but it's very long, it's like two feet long so it's more of a waist cord then a wrist cord!