Loaded Black Silicone Vibrating Cock Ring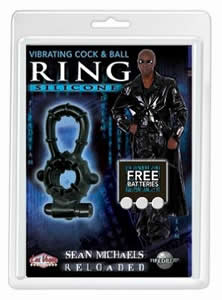 This incredible cock ring wins on attractive sex toys for couples. The look is loaded for sure, a big manly man would wear this vibrating cock ring, not a wussy man! The feel is really tight, there is no way this beast will ever fall over, flip around or pretty much break. The material give enough to allow it to slip on but it's sturdy enough to support the erection.
One disadvantage if this sex toy is that it really reduces the amount that can be penetrated. If your man has a huge penis and it hurts to have sex, then this sextoy will do wonders not only for stimulation, but reduce some of the penetration, by about an inch. On the other hand, if your man's penis is small, them you might want to go with a thin cock ring that does not affect penetration.
I review this sex toy happily because it's fun. The vibrations are very spread out because there is not a pinpoint place where they radiate from. You can see in the picture that there is a little spike that acts as a clitoral stimulator, but it's very flexible and more tickles then stimulates the clitoris.
The bullet comes out of the holder so you can use this sex toy with or without the vibrations or even use the clit toy as a vibrating bullet on it's own.
Those little rings that circle the testicle strap on the cock cage are for looks only, they have no impact on your sex encounter. The testicle strap is really soft and fits with every curve of the scrotum making it fun and very comfortable to wear.
A super exciting sex toy that you are sure to love, it will add erotic excitement to your sexual encounters.