Liquid Love Massage Oil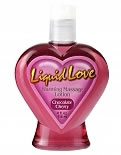 I was so attracted to this massage oil, the bottle is the cutest bottle I've ever seen for any adult novelty. Just looking at the bottle screams "use me as an adult gift!" So i did. I was weary about the price of this item, being only a small handful of dollars. I know in the world of sex toys you really do get what you pay for, but the packaging of this erotic massage lotion got me hooked so I gave it a try.
I'm assuming that you can predict how this review is going to go for the Liquid Love!
Yes, it's pretty crappy. It smelled like old wine. I purchased the chocolate cherry flavor. It must be full of sugar because it's thick and soupy and sticky. It's edible but definitely does not taste like cherries, chocolate or both.
If you wan to use this for erotic massage, i highly suggest you plan on jumping in the shower when you are done because you'll stick to your sheets and pretty much ruin your intimate mood.
There is a good time to give and use this massage oil however, if you really wan to get your lover to take shower wit you, use this adult product then you have to shower to get it off!
It's good for a gag gift for someone but don't take it seriously at all. The bottle is so attractive that it is the best massage oil for that funny present for your special someone, or even an anniversary gift for your old parents.
Remember that good massage oils like the kama Sutra brand that cost 20 dollars or more seem expensive, but the value really is worth it. Stay away from cheap massage oils and all cheap adult toys for that matter!