Janine's Vibrating Realistic Vagina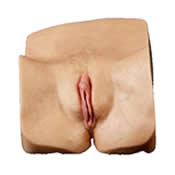 This large sex toy for men is actually sculpted from Janine. Before I begin on this review, I need to say that I am reviewing the least expensive model, not the ultra realistic vagina. This sex toy for men is made from rubber, but one of those space-age realistic materials.
There are some men who like this better then the newer types. This material is classic because it;s been around for so long. The feel is very different then with Cyberskin sex toys. Cyberskin is floppy and stretchy, this rubber is firm, dense and unforgiving. Yes, it will stretch so you can put your penis inside but it gives you more of a tighter feel. Lubrication is absolutely essential with this type of sex toy. No question, you NEED lubricant.
The back of this vagina sex toy has handles, these are used to stretch the vagina hole open so you can have sex with the sex toy. The wet feel is tight and you can glide effortlessly. If you are they type of man who need tight stimulation, i would recommend the rubber pocket pussy over the Cyberskin pocket pussy.
If you need lots of friction and like to get it fast and busy, this one will also be good you you. It vibrates and the vibrations readily in one side of the toy so they are a little lopsided, making the vibrations not really satisfying at all. There should be 2 bullets with this sex toy, not just one.
For being a rubber male sex toy, it looks quite real. It has pubic hair which is a nice touch and adds a little bit more realism to the whole experience.
Full sized and ready to go, don't expect to hide this easily, I recommend storing it in the box it came in because once this rubber material picks up lint or dust, good luck at getting it off!
For the men with a huge penis, this sex toy might be too un-comfortable for you but if you are the average sized man, this will suit you well.
If you penis is very sensitive, I would avoid getting this type of pocket pussy, go with a softer one because the feel might be too intense.
The hole is huge inside and is textured with strange bumps and canyons. It's supposed to simulate the feel inside of a vagina, I've been told that it's not too bad but a real vagina is MUCH softer then this one.
Again, if you like string stimulation then this sex toy is good but if not, stick with a lighter model. Another feature my man did not really like is that it's very cold so this pocket pussy does not feel natural. If you want a more life like experience then try using warming lubrication.