Impulse Slim Vibrating Bullet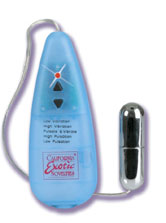 This bullet vibrator comes from a line of sex toys that are known for their quality. Upon fist view, this seems very overpriced for a vibrating bullet. Normally, I've seen hem for about 8-9 dollars at most. I was intrigued as to why this bullet costs so much more, it is 19 dollars!
Since I had some extra disposable income, my curiosity got the best of me and I purchased this sex toy. Here's the review:
I admit I was surprised because it takes the usual 2 AA batteries, and 1 watch battery... Why? I have no idea, maybe it's to illuminate the light that goes on then the powers on. If this is the case it's good because it does not use the main battery power to light the light and taking away from the overall power of the vibrating bullet.
It really is powerful, you can feel how the vibration are right at the end of the bullet which is good because it makes it easier to hold on to. Some of the cheaper bullets, the vibrating piece is right in the middle of the egg and your fingers will go numb when you hold it. This one, you can hold the end and it won't cause your fingers to hurt. I thought that was a great feature and I really liked it. There are 5 functions with this sex toy, the first is low vibrating, the next is high vibrating, then there is pulsate and then high pulsate and low pulsate. They market this bullet vibrator as 5 functions but in reality, there are 2 different functions and the pulsate is slightly different from the previous one. I guess some people may consider it to be 5 function, I considered it to be 2.
Anyway, I like the look of the entire package, it is sleek and modern looking, not bulky like some of the 8 dollar bullets which I swear are from the seventies!
The battery back is pretty blue and sleek looking and controlled by black push buttons. I wish there was a dial so that I could control the speed better and I thought that in a 18 dollar bullet it would have that feature. That made me a little disappointed. The bullet itself is really slim and long which makes for easy handling and you can hold it over your clitoris during sex and not have to worry about stabbing your guy's testicles with your fingernails!
All in all, i though it was a great sex toy, but it was a little overpriced. I did like like it and would recommend it to anyone looking to ad a little fin into their sex life because it is simple, discreet and easy to use.