G-Curve Glass Dildo
Submitted by Anonymous on Thu, 09/20/2007 - 17:35.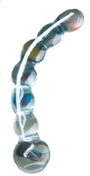 The G-Curve glass dildo is a very sexy, ultra sleek glass sex toy with absolutely no seams, and no friction. Made from E-glass, a high grade glass, this dildo will slip and slide perfectly in and out, as fast as you can! That's the beauty of glass sex toys, you do not need lubrication. Natural body lubrication will slather up this dildo, and keep it wet!
Most glass sex toys are hand blown, there fore you are getting a quality, inspected and personally made product each time. This is important, as instead of mass producing something, and risking there be a default, the blowers inspect each inch, ensuring your safety and pleasure.
This glass dildo measures 6 ¾ inches total length, all of which can be inserted. The larger 1 ½ inch bulb at the base will spread you wide, and massage deep down, following by the slimmer 1 inch wide bulbs. A truly erotic sensation! Or, you can always use the bottom bulb as a perfect hand grip, and thrust yourself with it perfectly. The bulbs feel very nice inside, and are not to big or to slim. This dildo really nows how to hit the G-Spot, and massage it until you orgasm!
Glass sex toys are awesome, and so unique. They have the amazing ability to retain your body temperature, making you way more comfortable and way more aroused! A cool little trick for turning your glass dildo into a frozen treat: place it in the freezer for a couple minutes! When you take it out and play with it, it will feel just like erotic ice cubes, except no mess after. The worst part of playing with ice cubes is always the puddle under your bum afterwards. I must admit, feeling the cold water of the ice cubes melt down my ass is really arousing, but I would rather not have a puddle on my bed or floor after!
Glass sex toys can also be heated, just put it in your microwave for like 10 seconds, and you'll have the hottest toy on the block! One the toy has cooled, or warmed, it will keep your body temperature and give you an arousing orgasm.
This sexy glass dildo comes with a free sample of lube it you need it, and also a gorgeous satin bag for classy storage! I really feel like a goddess when I use glass sex toys, and this one is no different!
What I like most about glass sex toys, well maybe not most, but what I certainly love about glass sex toys is that they are the easier thing in the world to clean! You can boil it, or rinse it, or toss it in the dishwasher! Just like all the other glass dishes in your home. It really makes clean up fast and easy. If you wanted, you could also use anti-bacterial soap and warm water, but there really is no need. I like putting mine in the dishwasher... You can even use it right after and feel the hot, fresh dildo that you crave!
I give this gorgeous piece of art a 5 star rating, as it is perfectly long enough, it feels great, it is seamless, fracture resistant, slick and smooth, and cleans up easily. All glass sex toys are wonders to me, but this one, with its bulbs and perfect base, really shines a bit above the rest. Better than just a shaft, smooth shaft, curves and bulbous is better!