Floral G-Spot Vibrator
Submitted by Anonymous on Fri, 09/21/2007 - 16:35.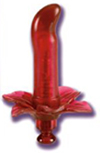 A gorgeous G-Spot vibrator, this Floral G-Spot Vibrator was a great investment, and is perfect for beginners. The unique thing about this vibrator is the fluttering jelly flower petals that lay beautifully at the base of the shaft. When the vibrations are turned on, they tickle your clitoris and stimulate your whole vagina area. They are flexible and I found them to be very arousing. I like the way they not only tickled my clitoris, but they also wowed my vagina lips and even almost to my anus. It is great motivation to push the vibe in as far as you can, just to have the luscious petals dance around and tease you!
The shaft is a soft, straight shaft that curves at the end for G-Spot stimulation. The whole shaft is rigid because of the vibrator core, but once you get to the curve at the top, it is flexible and squishy, and bends nicely for more comfort. The tip is tapered and rubs against the g spot really well. The sensations of the g spot being massaged and the flower petals stimulating the rest really makes for a great sensation!
The vibration are super strong, and very teasing! There is only one speed, but it is very sufficient. I found the vibrations to be erotic and stimulating, and very powerful! They really make you want to drive the whole toy into you, and please yourself passionately! Quiet too, the vibrations shouldn't be heard from the next room.
The whole toy measures 4 ½ inches long, with 3 ¼ inches insertable. The small size and the thin width, only 1 inch wide, make this vibrator perfect for beginners. If it is your first time, and you want something small, but powerful, then this is the vibrator for you! The flower petals measure 1 inch long, and cover just enough area to be very arousing!
The toy is made out of hygienically superior silicone, and is very soft. Once lubricated, this toy slips and slides comfortably and erotically! Also, this toy is waterproof. I love taking this toy into the bath, and pleasing myself with my flower power!
You need 4 watch sized batteries, and 8 are included.
I give this toy a 5 star rating. Sure it is small and sweet, but strong and arousing! The petals stimulate a full circle around your vagina opening, and the curved head leads you straight to a G-Spot orgasm! This is an incredible feeling, and should be felt by all women!