Edible Condoms
A great way of spicing up your sex life is by playing with edible condoms. But just remember, these are great more for of a fun and entertaining encounter, they are sticky and don't roll over the penis very well. If you want to add real flavor for a passionate encounter, use flavored lubricant.
These condoms come in many flavors, from mint to chocolate, strawberry cheesecake, passion fruit, banana, cappuccino etc. With all these flavors and more to choose from, you can enjoy a yummy and ultra decadent treat every night of the week!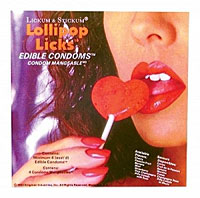 These condoms are purely for novelty and fun only! Don't think they can protect you the way a real condom can, or even wear comfortably like a real condom. They are edible which means literally you can eat them, so as you suck and lick your heart out, they will dissolve and disappear. They are sticky and some people do not like the texture or flavor, but its fun to try at least once! Think of edible condoms as a Fruit-Roll-Up style treat.
These make the perfect gag gift for someone else. If you have an adult birthday, anniversary, wedding or something, give them edible condoms to get the laughing. Try them for yourself with your lover for a fun night, but don't expect it to be too romantic, it will be more laughs than anything! You could match edible condoms up nicely with a bottle of wine for a fun night!
Edible condoms are inexpensive, and should be experienced at least once by everyone! I don't recommend them for any serious and intimate night, but if you are looking for a fun time with your partner, edible condoms add a little humor and oral sex!