Ecstasy Dildo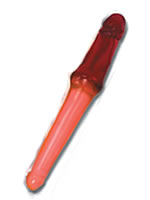 Really slippery smooth, not a dent or bump on this bad boy! It was really slippery when lubricated, almost like a glass sex toy. The jelly was sturdy. It tends to be cold so warm it up with your body heat or warming lube first if you don't like the shock of coldness on your lady parts.
Compared to other double dildos, it was great because of the varying sized heads. I like the tiny prober head at the tip, it feels like a little ball. The larger head has two nice ribs that probe as inserted and removed. Nicely designed but not as big as I thought it would be.
It smelled really strong when I first opened the package though, I had to leave it "dry out" over night so the smell could dissipate. A quick wash or two with soap and no big deal, the manufacturing residue is rinsed off. It is really pretty, I loved the two colors and how they bland in the middle, it is one of the nicest looking sex toys.
I love also how each end is different, one is shirt and chubby and the other is long and slim. You can use the thin side as an anal rammer and the thick side as a dildo. Quite the versatility. One funny thing is that the measurements say it is 12 inches long, but it's not! It's probably only about 10 inches long and a lot smaller then you think. Just know that before you buy it, but still do it anyway because it's superfun. It's really flexible so you can bend it easily. I enjoyed it but make damn sure you have lots of sex lube because it will cause mega friction!