Dual Ringer Tickler Erection Ring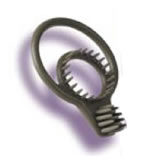 This is 50/50 a sex toy/erection device. A fine blend of sexual enhancer and erecting enhancer. not just for erectile dysfunction, the cock ring is for regular guys, like my man who can use a boost to the penis, not that he's small, he would freak out if I ever said that in my website!!
Any man regardless of how big the penis is can benefit from a cock ring. Especially this one, there are two rings, one for the penis and the other for the testicles. What happens when you put it on is that it keep the erection harder then normal and the testicle ring prevents premature ejaculation - well according to the descriptions it's supposed to but for my man, it did not.
It's a very suitable device if you have erectile dysfunction, if fact I would recommend this the most over one of the jelly rings simply becuase this cock ring is very good at maintaining the erection. If you need to get an erection first and don't take Viagra or other medication, try using a penile vacuum pump made for erectile dysfunction becuase it's an easy and safe solution. You may want to ask your doctor first if it's OK for you considering any possible underlying medical issues, but the vacuum pumps do a very good job at getting a firm erection and then the ringer cock ring will both keep the erection stiff and satisfy the woman during sexual intercourse.
It did make everything look higher and better because the rubber ring "lifts" everything yo from behind, so looking at his manhood was nicer then normal.
Ad for a sex toy, the tiny little tickler at the top is what you get. It hits your vagina lips with every movement which add a little bit of feel. Of course you can only feel it when he interest all the way and personally, I found the spikes to be a little irritating and scratchy, they are not soft at all.
His penis looked higher and better but as for the feeling during sex, there wa no difference at all.
Good for erection control, not so good as a s sex to for couples but if you like scratchy stimulation then sure, get this little device. The price sis not bad either so it wont break your bank.
The rubber is firm and does not stretch much and can pull a few hairs so use some lube. You have to sacrifice some comfort for effectiveness so be prepared for that and if you use cock rings already then you know this so there will be no surprise here.