Diving Dolphin Vibrating Cock Ring
Submitted by Anonymous on Thu, 09/20/2007 - 17:41.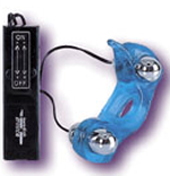 This is one of the most insanely powerful cock ring on the market. If you are looking for sex toys that will vibrate you until you can't take it any more as the passion is so intense, well the Diving Dolphin Vibrating cock ring is certainly the one for you.
Made from a supper supportive jelly, this vibrating cock ring will fit snugly around the shaft of the penis, and keep you strong all night long. Well, maybe not all night, as it is not recommended to wear any cock ring sex toys for longer than 20 to 30 minutes during each session. But for as long as you, or your partner, wears it, your sex will be raging, diving and super erotic!
This love ring is larger than most, and very sturdy. There are two holes that hold two vibrating eggs, one for him and one for her. The one for him lies on the bottom of the ring, and stimulates him, while the vibrating egg for her is on the top of the ring, and stimulates her clitoris perfectly. The level of multi-speed vibrations for these whole bullets lies in a hand held controller, which has two independent sliders, so he can choose his own speed of the vibrations, and so can she. On high power, these two bullets vibrate very intensely, more so than most vibrating sex toys.
The clitoral stimulator for her is the dolphins nose that will poke, prod and tease her until she can barely take is and reaches her orgasm with you. You can also use this cock ring without the vibrating bullets if you choose, and simply have a large, plump and firm cock ring. The ring is flexible, and stretches slightly to fit over his erection, but won't flop down and disappoint you when it is supposed to be standing tall.
The battery pack requires 3 AA batteries, which are not included. The cock ring measures 4 inches long and the outer diameter of the shaft hole measures 2 inches wide. The inner diameter of the hole measures 1 ½ inches wide, but will stretch to fit comfortably. Use lubrication to slip it on and off easier.
This cock ring sex toy gets a 5 star rating for its extreme vibrating power, and for its comfortable wear. This cock ring will amaze anyone with it's intensity, and it throws most vibrating cock ring sex toys out of the competition! If you want powerful vibrations and arousing comfort, this is the cock ring for you.