Cyberskin G-Spot Vibrator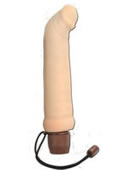 Call me the g-spot queen but here I go again reviewing another g-spot vibrator! This one is simply your regular skinny plastic g-spot vibrator with a Cyberskin's sleeve with a penis head design.
If you already have the skinny version that is so popular - you know the sex toy with iridescent color and shiny plastic surface with the wrist cord - this is that vibrator but brown with a sleeve over top.
Saying that, this adult toy comprises 2 different feels. You can enjoy soft stimulation or hard stimulation and I like it for that because the sleeve is quite thick and offers each quite a different feel. The sleeve gives more girth but it keeps it thin so if you don't want to be stretched to the limits by your sex toys then this choice is good because you get softness without the girth.
The sleeve is pretty with realistic looking wrinkles on the penis and a sculpted head, but just know that you won't notice any of the sensations because the sleeve is so soft that it melds into one feel. The penis dressing is purely for looks only.
The vibrator is strong and enjoyable but the sleeve will muffle some of the feel so if you want strong vibration then you have to remove the sleeve. It's easy to clean because you can throw the whole thing into the sink with soapy water and wash and the plastic is obviously super easy to clean too.
Make sure to use lube or the Cyberskin will be a little stretchy. I don't know how easy it would be to tear the sleeve but it's better to use precautions then to have to buy another sex toy because you ripped this one!
The waterproof feature is the same so it's nicely versatile for all your adult pleasure needs. I liked it, it was nice and you might like this Cyberskin g-spot vibrator too.
Another nice thing is that for a Cyberskin sex toy, the cost is quite low. A good buy.