Copper Swirl Butt Plug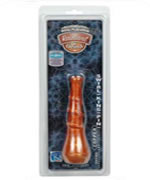 I have never seen an anal sex toy that looks so good before. Doc johnson has really outdone himself on the presentation of this fantastic swirled butt plug. It's made of a material they call Sil-a-Gel, supposedly a safer mix of jelly because it has silicone in it.
Maybe the blend of silicone allows the interesting swirl pattern hold steady, it looks like you've swirled a casing filled with liquid and taken a picture, frozen the movement in time. It's the prettiest anal sex toy ever, hands down.
The material is different too, not like jelly but not like silicone. It has a sturdy feel to it but it's completely flexible. If you have used jelly anal plugs, you'll know what I'm talking about when I tell you they are difficult to insert. The anus is such a tight opening and when you try to insert a lubricated floppy jelly tapered item, it flops and flips and des everything in it's power not to be inserted! It can be a mood killer, who needs frustration during sex?
The solid rubber plugs insert well but they are not the most comfortable anal toy. This little guy is a good blend of soft and solid.
You can insert it fairly easily but the only problem is that the way it's tapered downwards, it won't stay in. It will continuously fall out so you will have to hold it in. This can prove to be annoying for some, but beneficial for others.
I think it's main purpose is to put pressure on the anus, a place where sensitive nerves lie and when pressed, they help to release sexual pleasure and give you a really neat addition to your orgasm.
The size is good too for the beginner and the curious will enjoy the feel of this anal toy. You don't have to insert it in all the way if you don't want to so there is nothing intimidating about it. The price is cheap for an anal sex toy so I could call this a good buy.