Clear Dual Cock Rings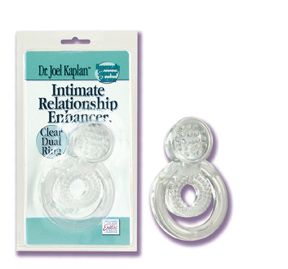 First let me say that out of all the cock rings in the world, this one looks the most comfortable. It is big, rounded, soft and very stretchy. Slipping it on was also very easy but be advised that you must be careful of any pubic hairs because it will pull and cause a little discomfort from pulled pubes!
If you are thinking about a cock ring for the first time,I highly recommend this one. It is much more comfortable then the dolphin cock ring because this one made if silicone stretches to fit every little crease and details of the penis. The ring that holds around the penis is very thick. it fits snugly but not very tightly. If you need erection control from your penis ring then you might want to reach for a tighter kind. I think that any silicone ring will be too loose because it's so stretchy compare fit rubber or even most jelly rings.
The testicle strap does great job at preventing the cock ring from flipping around and not doing it's job at stimulating the clit. The big rounded and slightly concave clitoral pusher (I call it a pusher because that's pretty much what it does) It presses against the entire region with every movement and the sensation is squishy and thick. I actually liked it, it felt like a big thumb pressing on the clit.
In the end, I give this cock ring a 5 star on a sex toy for couples rating because it did it's job very well, as for keeping an erection hard, I'd give it only 1 star because it's a little on the loose side. I like the fact that it is not pink because there are too many pink or stupidly colors sex toys on the market. Good value for the dollar and a fun sex toy. Give it a try!