Black Orchid Masturbator
Submitted by Anonymous on Thu, 11/08/2007 - 17:09.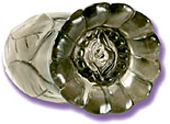 A sexy, smooth to the touch male masturbator that will please you every time you use it. Made from Senso-Plus jelly material, this Black Orchid masturbator is durable and very stretchy. It only measures 5 inches long, but can stretch to cover your whole penis shaft. This makes it easy to pump fast and as rough as you want, since it won't break, and will only feel very comfortable! Jelly sex toys usually are very sensual and easy to play with.
The most unique feature of this masturbator is the 5 separate suction chambers that lie though out the love tunnel. These are small spaces that fill with air, and as your penis pumps faster, and the deeper you thrust, these 5 suction chambers will release their air, creating a tight suction which surrounds your penis shaft and feels just like the best oral sex you've ever had from any sex toys! Along with the 5 suction chambers, the love tunnel is ribbed for more added pleasure.
The Black Orchid masturbator is closed-ended for a stimulating sensation on the head of your penis, and also to allow for the suction chambers to tighten and give you that ultra-pleasureful sucking. Closed ended is a little bit harder to clean, but it really makes up for it with the powerful suction and the massaging for your penis head. Although closed ended sex toys are a little bit harder to clean, this masturbator is not that difficult. To clean your masturbator, either use it in the shower for a less messy cleanup, or flip it inside out and give it a good rinse with anti-bacterial soap and water.
This masturbator is colored black and is shaped like an orchid, allowing you to have your masculine color, with a touch of femininity for that mentally arousing aspect. This masturbator is very soft, supple and plump. You can squeeze it and pull on it, and it will retain its original shape. Using lubrication with your sex toys makes them way more comfortable, and easy to use. With this masturbator, f you use lots of lubrication, you will be able to slip and slide quicker, and thrust harder and deeper, giving you that ultimate suction sensation.
The width of this masturbator is 2 ½ inches, and 5 inches long, giving you the ability to stash it away perfectly and discreetly. This way no one will find your Black Orchid masturbator, only you when you need it!
Jelly sex toys are comfortable and really allow you a great orgasmic experience. This masturbator is no exception. I recommend this masturbator to anyone who needs a little bit more stimulation during their self pleasure time, and only costing around $20.00, you can't go wrong!