Bending Bubbly Vibrator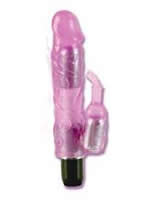 When you look at this sex toy up close you'll probably be surprised at how un-erotic the design is! I think they were making it with odd-ball character types in mind. Personally myself I was so intrigued by the design that's why I decided to get it, try it and tell you about it!
Their marketing strategy worked on me because I happily dished out 40.00 for the sake of curiosity. The following will let you know if I was impressed or not:
Oddly, the champagne bottle on the top is quite effective as a clitoral stimulator! Normally sex toys have rabbit and dolphins and frankly, they all feel the same on your clit. This one has a champagne bottle with liquid pouring out the top (it's not real liquid of course, it's jelly in the form of liquid). What this does for you is give a long string like fit against your clitoris. It has lots of coverage. The downside is that the bottle is quite flexible so that it does not give you as strong as contact and I would like so it won't lead to the strongest clitoral orgasm.
One of the best features about this sex toy is that the entire shaft bends so that you can give it the curve you want for the best pleasure. You can even reach the g-spot with this sex toy too. It's ultra strong and wide enough. The large vibration part in the top is large and wide and offers really good vibrations all over your insides.
It's super soft too and the shaft is textured with hearts. I suppose this would be a pretty awesome gift. I liked it and thought it was pretty fun, I'd use it again. the rabbits are better through because of the way that the ears wrap around your clitoris, this one sits only on top.