Bender Dildo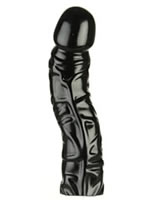 The black bendy dildo was a new concept in sex toys. It has a vertebrae inside that moves and bends the way you want it. that is mostly true, when you start to bend it around, you'll notice that it has an axis it moves within, you can't bend it anyway, you can see how the joints in spine on the inside move in their sockets. Soft of like little elbows moving in their sockets. That's fine because you can flip it around to get the shape you need and it really makes no difference if you use it upside down or not because you won't be able to feel the veined surface. It's more for show.
I did like how it moves and bends, I curve the end up a little bit and make it into a J shape because I can hold onto the bottom and play with myself hehe. The dildo was sort of short for this because it's only 8 inches long, I think there is a 10 inch version somewhere. I don't think that 2 inches would make that much difference for the price increase so I will stick with the 8 inch dildo version. This dildo is made by Doc Johndon and is slightly thicker then his other dildos, most likely because the spine in the middle adds a bit if girth.
As for dildo sex toys, this one was fun but you will find it difficult to make it go straight again once you curve it. Make sure to use warming lubricant because it's kind of cold, otherwise, sturdy and fun. I would say to give it a go, it's different then other dildos.