10 Function Love Vibe
Submitted by Admin on Tue, 01/08/2008 - 18:25.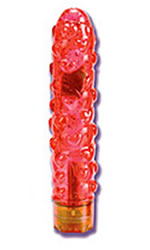 The cutest vibrator you'll ever see. The shaft is surrounded by many hearts that poke out for a darling, feminine look. If I were to receive this as a gift, I would be so happy! A hint to the men, this vibrator is the perfect present.
It is smooth and bendable, the shaft can bend becuase the vibrating piece which is located about 2/3 way up the shaft is connected to the base by a wire you can see running inside the transparent shaft. I like the fact that this vibrator can bend becuase it makes it alot more comfortable then a solid vibrator. It is easier to handle and more ergonomic to use. It is made out of jelly but it appears to be silicone-like because it does not have a strong jelly smell like some vibrators have.
The material is infused with sparkles and glitter inside making it look even cuter. You have ti see it to believe it! So cute it can use it as a decoration in my room. It's also waterproof for more fun wherever you want to bring it.
The functions vary with the push of the buttons at the bottom, it does not twist at the base like most vibrators do. The speeds are set and it has 10 different functions and speeds, although with no indicator like lights or anything, you can't really tell which function you are on as you cycle through them. Just keep pressing and stop when you find something you like. It can kill the mood pressing all these buttons not knowing what they do. I personally like the pulsating function that is different becuase it pulses on and off quickly.
The hearts not only look good but they add a whole world of sensations to your experience. I did not really like that much texture on my vibrator but if you want something other then the same 'ol ribbed surface, get this sex toy becuase it will give you the most exotic feel. I like to insert it and keep it there and not move it, you can even feel the bumpy surface becuase it is so intense.
Wonderfully designed and multiple functions and the it's unique surface make this vibrator truly one of a kind. One last note, it's not as thin as it looks so maybe it wont be great for the first timer.